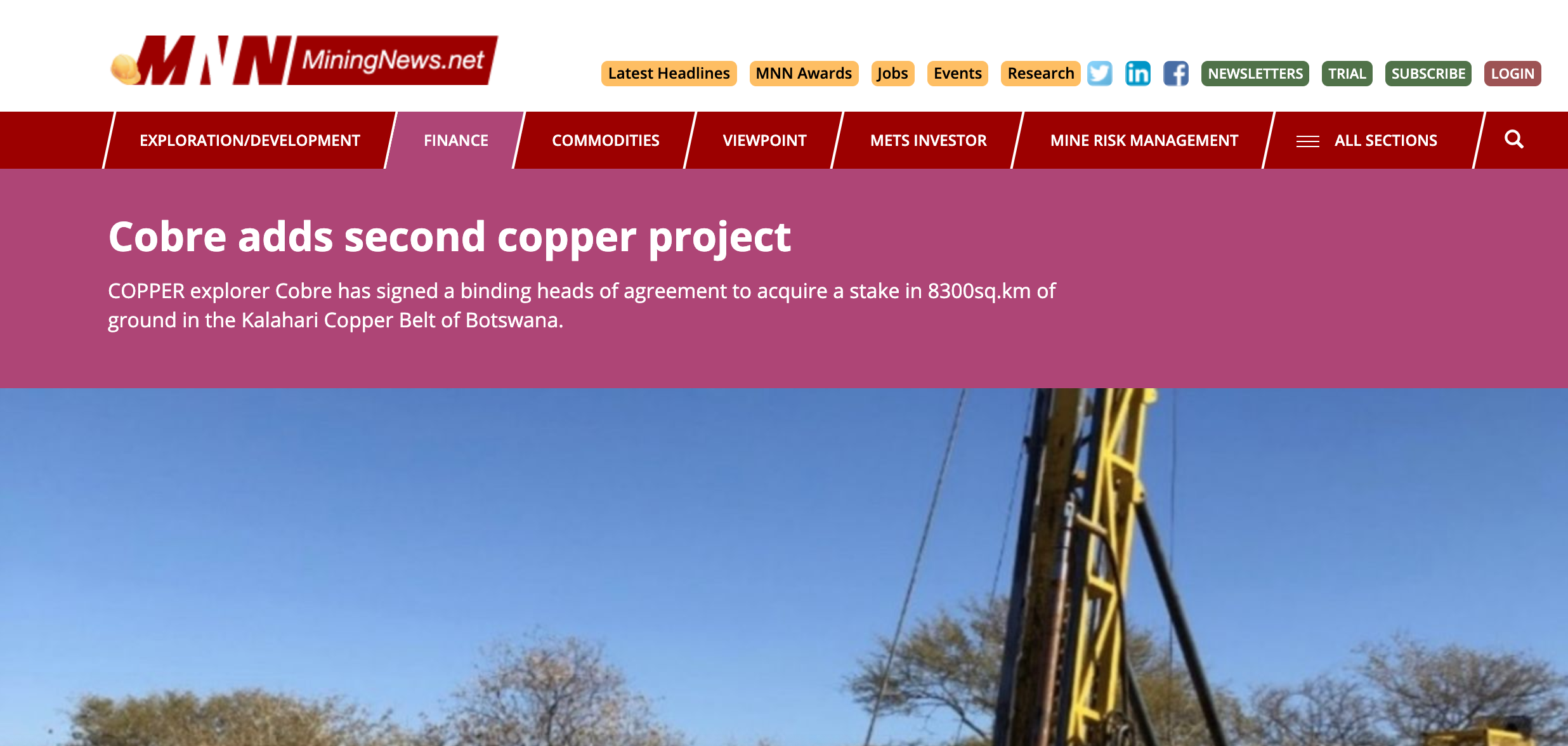 24 Aug

Cobre adds second copper project

COPPER explorer Cobre has signed a binding heads of agreement to acquire a stake in 8300sq.km of ground in the Kalahari Copper Belt of Botswana.

Kalahari Metals (KML), the 100% owner of the ground, is 62%-owned by Cobre's major shareholder Metal Tiger, with the balance held by six other shareholders.

Cobre will issue 21.4 million shares at A20c per share for a 51% stake in KML, with the shares to be escrowed until the end of January 2022.

Metal Tiger will continue to hold a 49% stake in KML and will hold 21% of Cobre.

Cobre executive chairman and managing director Martin Holland told MNN the acquisition would complement the company's Perrinvale project in Western Australia.

"I think what's interesting about it is the US Geological Survey recently came out and named the Kalahari Copper Belt as the most prospective area in the world for sediment-hosted copper deposits," he said.

"It's probably one of the best jurisdictions to invest in in Africa."

Metal Tiger was a major shareholder in Botswana copper developer MOD Resources, which was acquired last year by Sandfire Resources.

Metal Tiger acquired the KLM ground and has spent about US$4.2 million over the past two years.

"Now it's at a point where targets have been identified," Holland said.

It is estimated that KML will have a cash balance of about $600,000 on completion of the deal, which will be used for ongoing exploration activities within the Kalahari tenements over the next six months.

Cobre and Metal Tiger have agreed to commit A$1.75 million each to fund further exploration for the following two years.

The 2720sq.km Okavango project area is along strike from Cupric Canyon's Zone 5 and Zone 5N deposits, while Kitlanya East is close to Cupric's Banana Zone and Sandfire's T3 and A4 deposits.

Holland said COVID-19 travel restrictions made is "almost impossible" to do an offshore transaction, but Metal Tiger had a full technical team on the ground in Botswana, which would allow for work to continue.

Drill rigs have arrived on site and work is already underway at Kitlanya East.

Diamond drilling at Perrinvale will also begin this week.

On Thursday, Cobre reported a standout hit of 12m at 2.9% copper, 1% zinc, 0.05% cobalt, 192 parts per million lead, 0.7 grams per tonne gold and 10.2gpt silver from 45m, including 4m at 8.3% copper, 2.9% zinc, 0.12% cobalt, 555ppm lead, 2gpt gold and 29.8gpt silver from the Schwabe prospect.

"We'll continue to focus on Perrinvale and will continue to unlock that system," Holland said.

Cobre listed on the ASX in February after a A$10 million initial public offering at 20c per share, and had $7.1 million at the end of June.

The KML deal is conditional on due diligence, formal agreements and shareholder approval.

Cobre shares opened 5.3% lower at 18c.