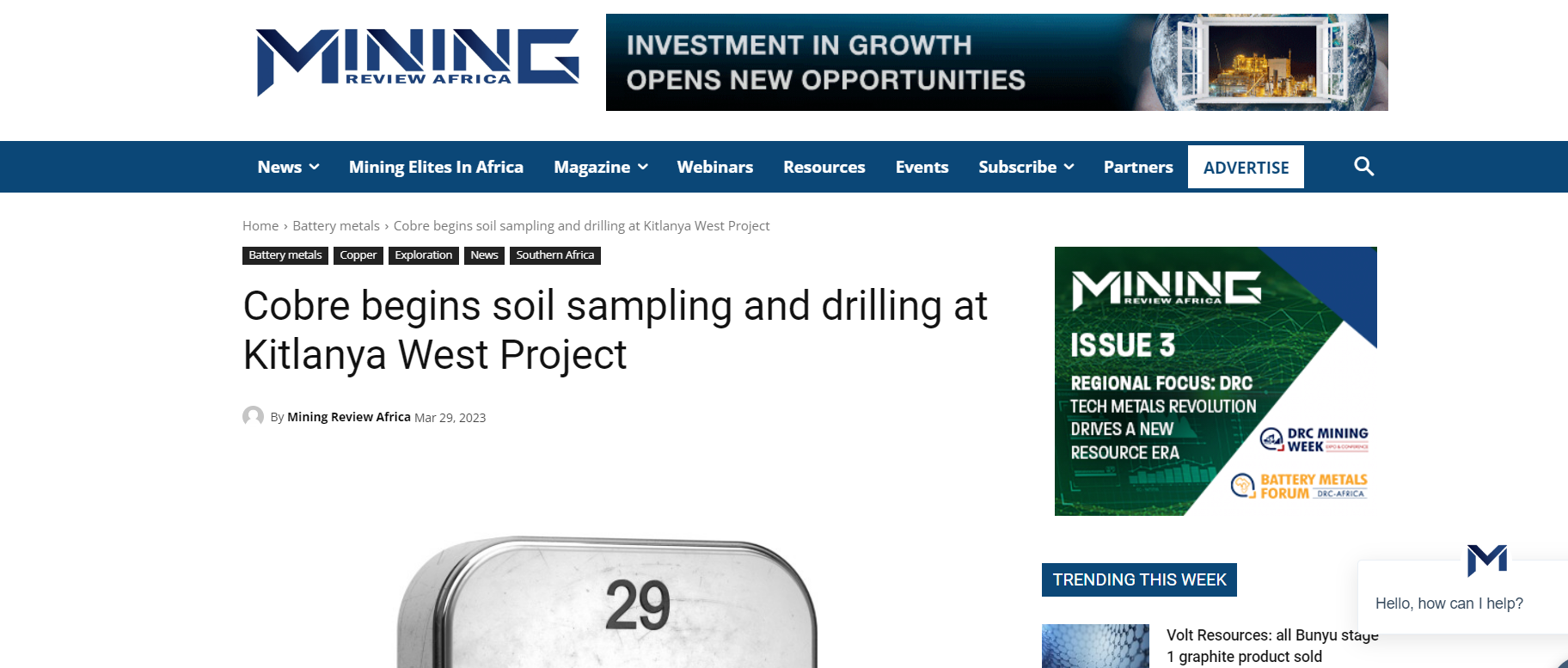 29 Mar

Cobre begins soil sampling and drilling at Kitlanya West Project

The project, in combination with the Ngami Copper Project, covers 2,700km of prospective terrane for sedimentary hosted copper-silver deposits on the northern margin of the Kalahari Copper Belt.

The interpretation of soil sample results completed in 2022 over KITW has identified several multi-element geochemical anomalies, potentially related to copper-silver mineralisation. The second phase of soil sampling, consisting of 8,600 samples designed to test the lateral extent of existing anomalies, is currently in progress with results expected by mid-year.

A large-scale aircore drilling programme has been designed to test the base of the Kalahari cover/top of bedrock in a number of priority areas providing valuable information on the position and potential copper enrichment of the important Ngwako-Pan/D'Kar Formation redox contact and overlying stratigraphy.

The aircore drill rig has arrived in Africa and access clearing is underway in preparation for the programme to start in April. The company is targeting analogues to the copper deposits in Khoemacau's Zone 5 development, in the north-eastern portion of the KCB. These include Zone 5, Zeta NE, Zone 5N and Mango NE.

The CEO of Cobre Limited, Adam Wooldridge, said that: "Kitlanya West has all the characteristic geological markers for hosting undiscovered KCB copper-silver deposits. The mineral potential of the Project is further supported by its potential for a variety of target types including traditional limb, fold-hinge and doubly-plunging fold trapsites.

Adding several compelling soil geochemistry anomalies into the mix adds further weight to the project's potential. The relatively thin Kalahari cover also simplifies soil geochemistry and provides an ideal environment for aircore drilling which collectively provides a cost effective means for testing multiple targets across the license area. Results from this next phase of work will go a long way to opening this emerging copper district".

The company is expecting to test multiple targets across the license area in a cost-effective manner, while results from the ongoing 5,000m diamond drilling programme on NCP are expected at the end of April with assay results due a few weeks thereafter. Targets generated from the soil and aircore drilling programmes at KITW will be combined with advanced targets on neighbouring NCP for diamond drill testing in Q4 2023.