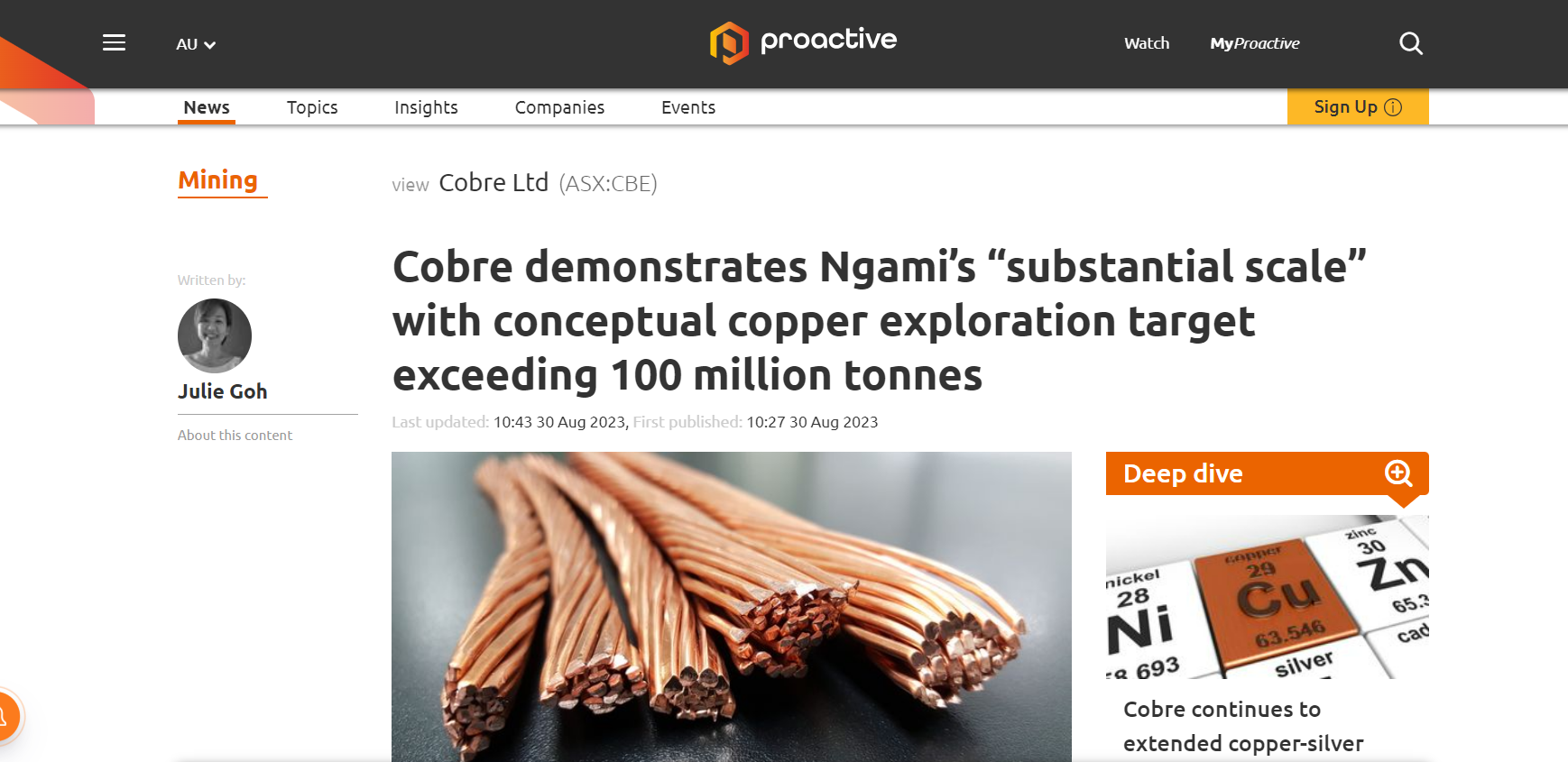 30 Aug

Cobre demonstrates Ngami's "substantial scale" with conceptual copper exploration target exceeding 100 million tonnes

Cobre Ltd (ASX:CBE) could be sitting on a "substantial scale" copper deposit exceeding 100 million tonnes based on a recently completed conceptual exploration target modelling exercise for the southern anticline at its Ngami Copper Project (NCP) in Botswana.

Results from the modelling exercise, derived from drill-tested mineralisation, geophysical data and geological modelling, indicate the project has a potential scale of between 103 million and 166 million tonnes at 0.38 to 0.46% copper.

"The completed modelling work provides us with a first pass estimate of the significant size and grade of copper mineralisation on the southern anticline structure at NCP … (with) a relatively small drill program required to bring the first circa 23 million tonnes into an inferred category resource," Cobre chief executive officer Adam Wooldridge said.

"In addition, more than 20 kilometres of untested strike from open-ended targets provides significant blue sky, which is expected to further extend the project scale."
Exploration target estimate
The exploration target estimate was constructed based on an in-situ copper recovery (ISCR) process utilising a series of injection and recovery wells to pump a weak acid solution under low pressure to dissolve the copper within the ore body.
Independent geological consultants Caracle Creek International Consulting Minres (Pty) Ltd completed the models and estimations based on a database of 78 diamond core drill holes totalling 16,465 metres over the NCP.
The southern anticline focus area includes 49 diamond drill holes covering 40 kilometres across the project with anomalous copper intersections on both fold limbs.
A total of 1,907 multi-element assays, together with lithological logging, structural and physical property measurements were used to construct the models, which were divided into two categories based on the drill data and the potential to extract copper from the deposit using the ISCR process.