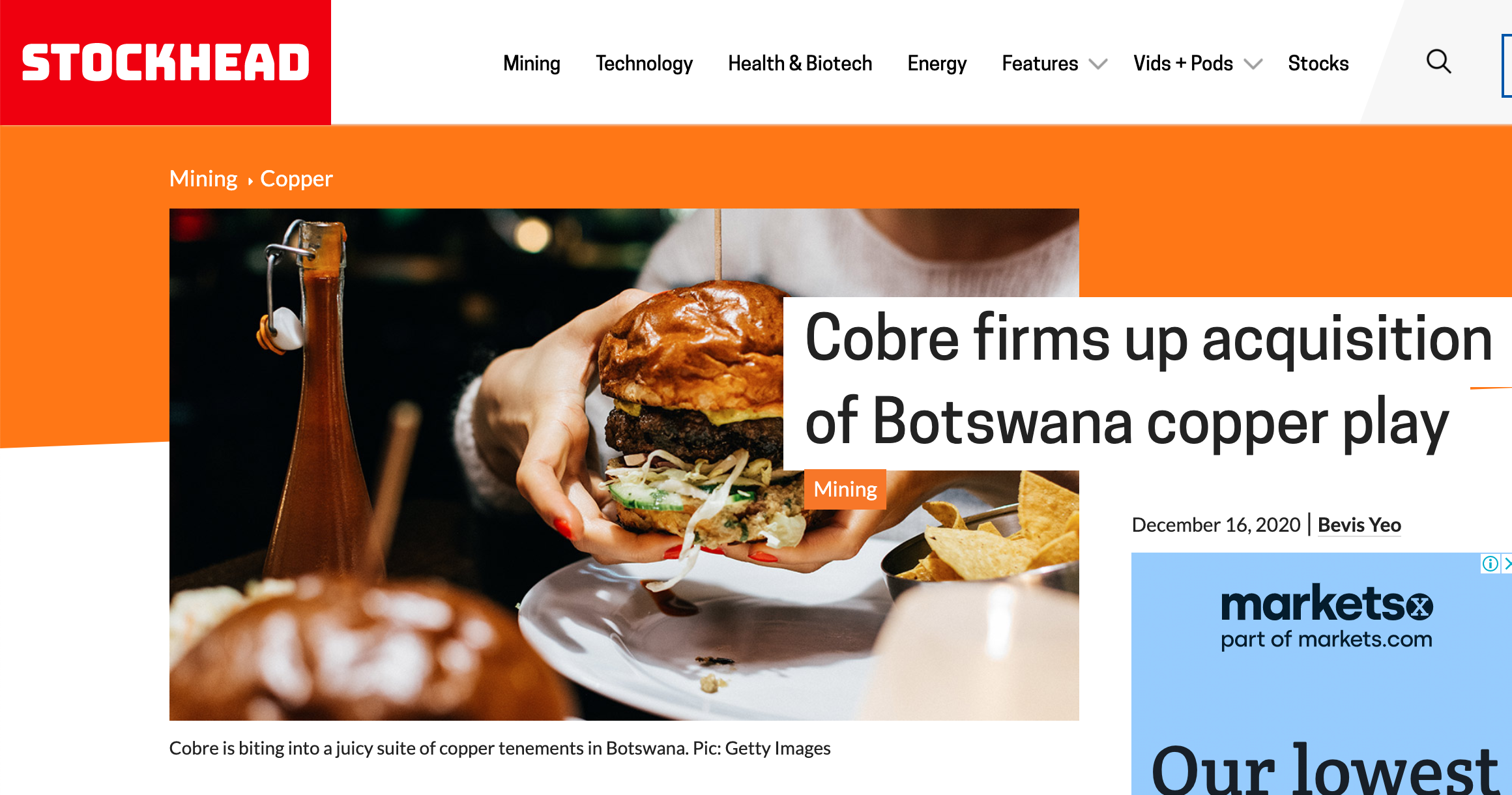 16 Dec

Cobre firms up acquisition of Botswana copper play

Cobre (ASX:CBE)

 has signed a share purchase agreement for the acquisition of up to 51 per cent of Kalahari Metals (KML), which notably owns the second largest tenure holding in the Botswana portion of the highly prospective Kalahari copper belt (KCB).

The KCB is regarded as one of the world's most prospective areas for yet-to-be discovered sediment-hosted copper deposits by the US Geological Survey.

Additionally, the 8,100sqkm holding is located close to Sandfire Resources' (ASX:SFR) T3 and A4 copper deposits along with Cupric Canyon's Zone 5 and Zone 5N copper deposits.

Exploration drilling is currently underway at the Kitlanya East prospect by the existing owners with future work to be jointly funded under a new shareholders agreement.

Stratigraphic drilling target geological settings analogous to the T3 and A4 copper deposits has already confirmed the presence of D'Kar Formation stratigraphy.

Cobre added the recent results support the potential for shallow copper-gold mineralisation in a similar setting to the neighbouring A4 deposits.

"This transaction not only gives Cobre exposure to the second largest package of Kalahari Copper Belt tenements in Botswana, but also expands and diversifies Cobre's copper exploration activities beyond Western Australia," managing director Martin Holland said.

"We believe the acquisition will create a stronger and more diversified company poised for domestic and international growth."
Transaction details
Under the agreement, the KML vendors will be issued about 21.4 million Cobre shares for a 51 per cent interest in the company.
It will initially acquire a 49.9 per cent stake in KML and will increase its stake further after securing approval from the Botswana Minister of Mineral, Energy and Water Resources.
On completion of the transaction, existing shareholder Metal Tiger will hold about 21 per cent of Cobre's issued shares and a 49 per cent stake in KML.
Copper potential for Cobre
Kitlanya East includes tenements in close proximity to Cupric Canyon's Banana Zone and Sandfire's T3 and A4 copper deposits.
Cobre noted that recent magnetic and AEM data interpretation by KML has identified a number of prospective anticlinal fold hinge targets.
Meanwhile, Kitlanya West includes three conductive dome targets considered analogous to Sandfire's T3 and A4 deposits.