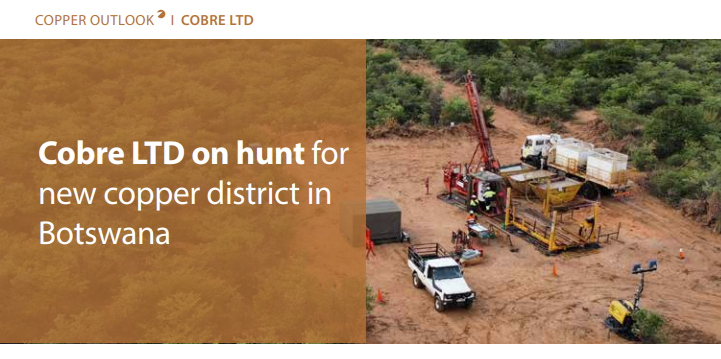 09 Mar

Cobre LTD on hunt for new copper district in Botswana

Cobre LTD (ASX: CBE) is not simply content with finding a single good copper project in Botswana; it is on the hunt for a district in the sands of this nation which is so rich in a multitude of diverse minerals and diamonds.

And if the company's most recent exploration update is anything to go by, Cobre is heading down the right path to fulfil this grand-scale objective at its Ngami copper project (NCP) in northern Botswana.

In this announcement, Cobre headlined the media release "Assay results confirm regional multi-target copper district and start of 2023 diamond drilling campaign", saying that assays from recent regional diamond drilling at four coppersilver targets found notable mineralisation in three of them.

These results likely represent mineralisation in the halo of higher-grade Kalahari Copper Belt (KCB) deposits, along with anomalous copper-silver in two of the targets.

Naturally pleased with the results, Cobre CEO Adam Wooldridge said that the NCP continued to produce encouraging results with several compelling new targets joining the fold.

"Being able to rapidly identify, assess and progress these targets is key to unlocking the potential in this emerging new district on the northern margin of the KCB," he explained.

"We have initiated a comprehensive drilling programme in Botswana with the goal of fully assessing the district scale copper potential. The next round of drilling at NCP will focus on further developing these targets in order to identify anticipated high-grade zones.

"In addition, our exploration plans for Kitlanya West include aircore drilling of initial soil sampling targets, which is expected to start at the end of March."

And with A$11 million in cash in the coffers, Cobre has the financial firepower to support the two diamond rigs which will complete a 5000m programme at the NCP.


This programme will continue to target high-grade copper-silver zones within drill-tested targets with proven mineralisation, and also identify anomalous copper-silver mineralisation related to deposit halos in the three untested targets.