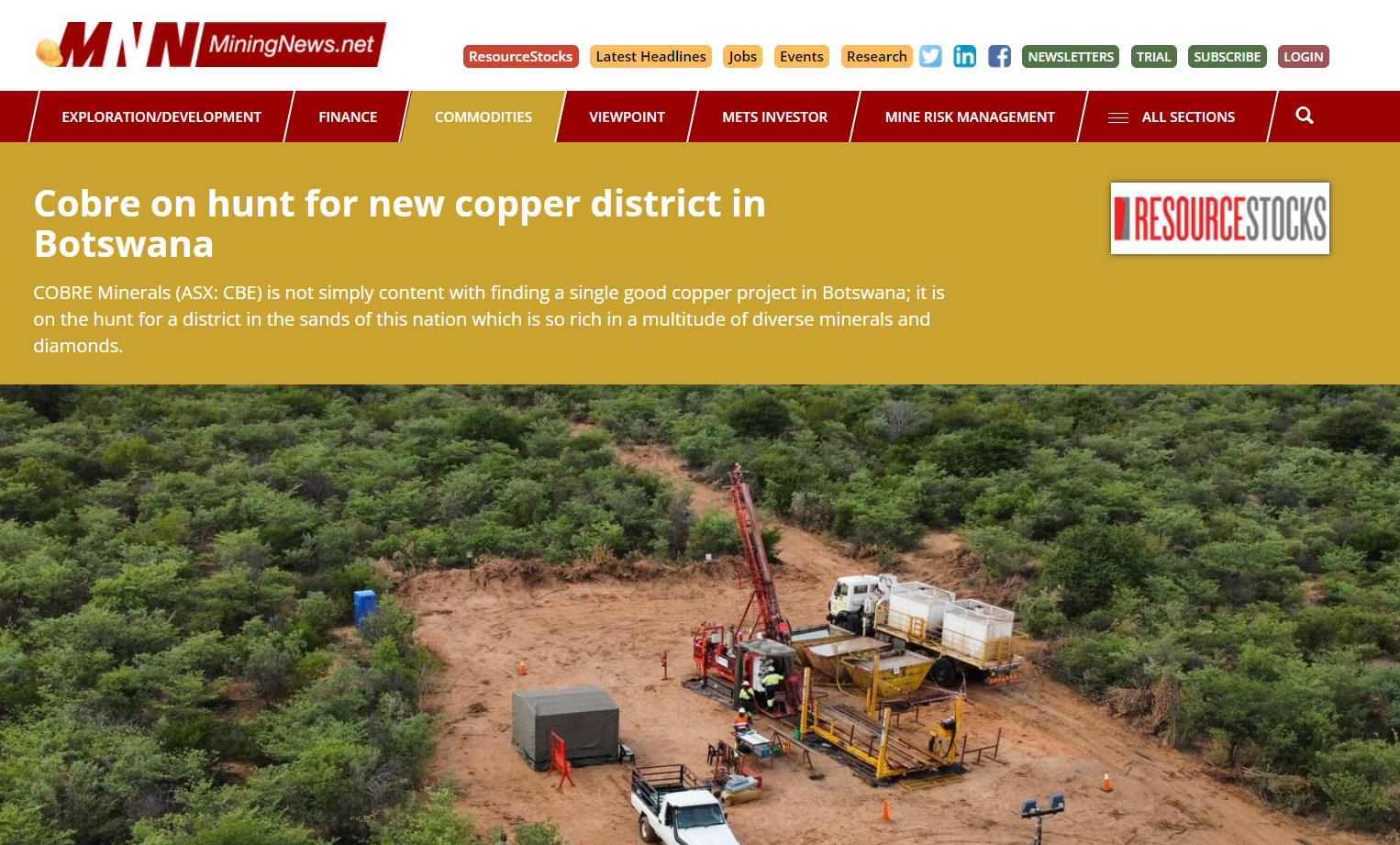 16 Feb

Cobre on hunt for new copper district in Botswana
COBRE Minerals (ASX: CBE) is not simply content with finding a single good copper project in Botswana; it is on the hunt for a district in the sands of this nation which is so rich in a multitude of diverse minerals and diamonds.
And if the company's most recent exploration update is anything to go by, Cobre is heading down the right path to fulfil this grand-scale objective at its Ngami copper project (NCP) in northern Botswana.
In this announcement, Cobre headlined the media release "Assay results confirm regional multi-target copper district and start of 2023 diamond drilling campaign", saying that assays from recent regional diamond drilling at four copper-silver targets found notable mineralisation in three of them.
These results likely represent mineralisation in the halo of higher-grade Kalahari Copper Belt (KCB) deposits, along with anomalous copper-silver in two of the targets.
Naturally pleased with the results, Cobre CEO Adam Wooldridge said that the NCP continued to produce encouraging results with several compelling new targets joining the fold.
"Being able to rapidly identify, assess and progress these targets is key to unlocking the potential in this emerging new district on the northern margin of the KCB," he explained.
"We have initiated a comprehensive drilling programme in Botswana with the goal of fully assessing the district scale copper potential. The next round of drilling at NCP will focus on further developing these targets in order to identify anticipated high-grade zones.
"In addition, our exploration plans for Kitlanya West include aircore drilling of initial soil sampling targets, which is expected to start at the end of March."
And with A$11 million in cash in the coffers, Cobre has the financial firepower to support the two diamond rigs which will complete a 5000m programme at the NCP.
This programme will continue to target high-grade copper-silver zones within drill-tested targets with proven mineralisation, and also identify anomalous copper-silver mineralisation related to deposit halos in the three untested targets.
Just kilometres to the west of the NCP is the Kitlanya West exploration copper-silver project, which was the subject of a recent soil sampling programme. This programme provided several priority areas to begin a 10,000m aircore drill programme. It is hoped that this will provide more copper-silver targets for diamond drilling.
The upbeat exploration update came just a day after Cobre released its December quarterly report, documenting some considerable milestones for the company during which it completed the acquisition of the remaining 49% interest in Kalahari Metals Ltd, moving to 100% ownership of the second largest tenure in the KCB – spanning nearly 5400 square kilometres.
Most importantly, Cobre secured the services of Adam Wooldridge to lead the company, a natural fit following his role as founder and CEO of Kalahari Metals. Along with this is Wooldridge's proven success in the field of mineral exploration.
But it was more about exploration than corporate matters in the quarter, with Cobre noting that the best result during the period was the intersection of high-grade copper-silver mineralisation in drill hole NCP20A at the Comet target.
The intersected high-grade zone appears to extend from drillhole NCP08 (10.7m at 1.5% copper equivalent) through recently completed NCP25 to NCP20A (12.2m at 2.68% copper equivalent) over a distance of more than 250m. Importantly, the expectation is for several similar structurally controlled high-grade zones to occur within the greater 4km Comet target, a typical feature in KCB deposits.
Importantly, in mid-December 2022, Cobre announced a strategic collaboration agreement with distinguished Australian copper producer Sandfire Resources to conduct a joint airborne gravity gradiometry survey that will provide detailed coverage over Cobre's copper projects in Botswana. Best of all, Sandfire will contribute 50% towards the total cost of the survey.
Looking at the bigger picture approach that Cobre is taking in Botswana, Wooldridge has some thoughts. "To open up the district scale potential of this unexplored portion of the Kalahari Copper Belt, we need to advance multiple targets," he said. "This is particularly relevant in the KCB where known deposits tend to occur in structurally controlled clusters. Importantly, deposits in the Kalahari Copper belt occur in districts which have a notable background copper endowment.