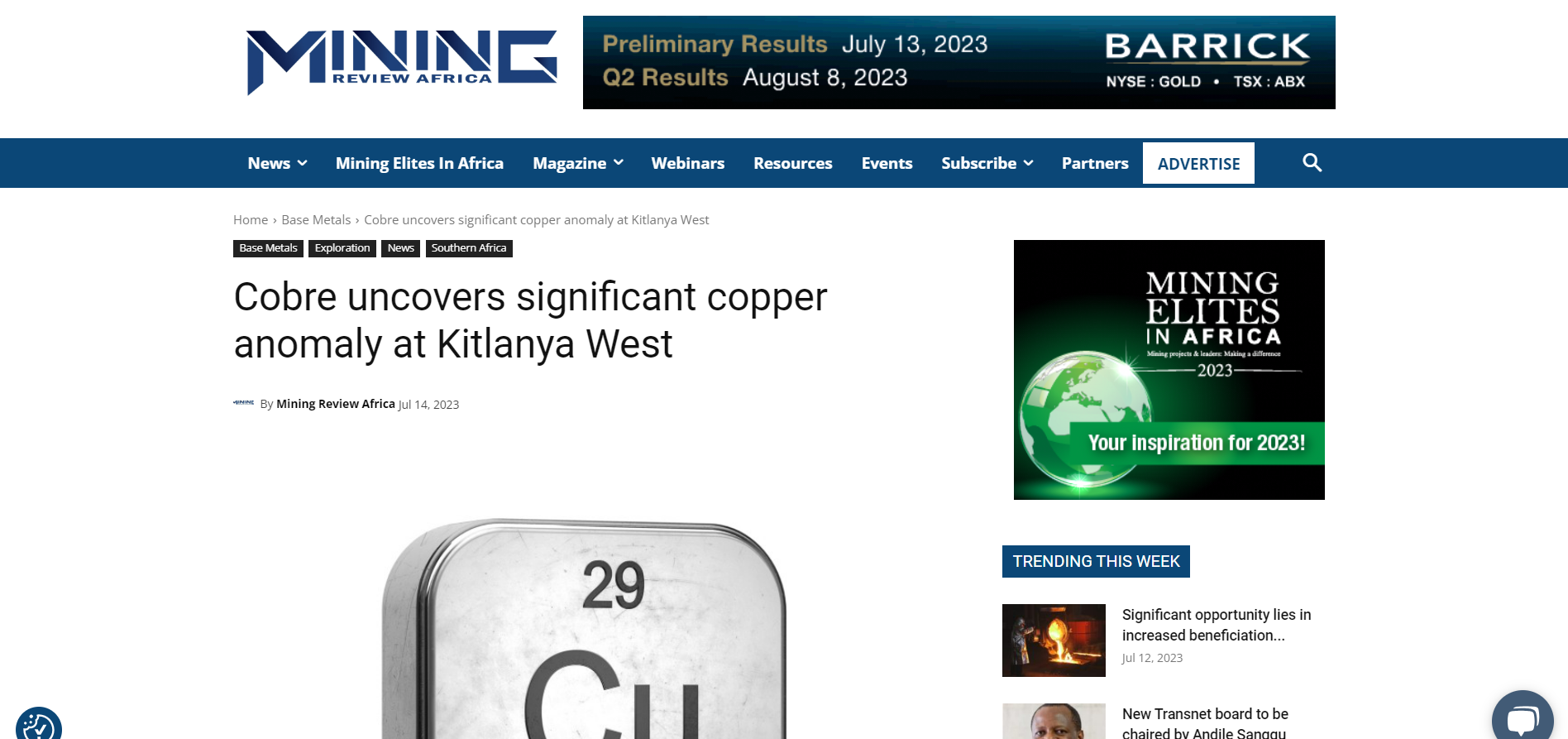 14 Jul

Cobre uncovers significant copper anomaly at Kitlanya West

"I am extremely pleased with the findings from our ongoing drilling activities at the Kitlanya West project in Botswana," says Cobre CEO, Adam Wooldridge.

The identification of a consistent and significant copper anomaly associated with the Tlou Target provides further support for the copper potential in the 2000 km2 project area.

"Tlou is in a high priority setting for structurally controlled mineralisation associated with folding of target stratigraphy. The confirmation of copper in bedrock and base of Kalahari samples provides a strong indicator for underlying mineralisation.

Overall, these findings by Cobre demonstrate the excellent prospects of KITW outside of the Ngami Copper Project, and further validate our exploration strategy in Botswana.

"Cobre looks forward to updating the market with further RC results as we test new areas across the KITW project as well as a diamond drilling campaign to identify the source of copper mineralisation at Tlou.

"Finally, we remain dedicated to maximising shareholder value and are excited about the future prospects as we advance towards the next phase of exploration to unlock the district scale opportunities in the Kalahari Copper Belt of Botswana."

Botswana boasts extensive copper deposits primarily located within the Central and Kalahari Copper Belt. These belts contain sediment-hosted copper deposits characterized by rich ore bodies formed through geological processes over millions of years. The presence of stratabound copper mineralization allows for relatively straightforward extraction techniques, making mining operations efficient and cost-effective.