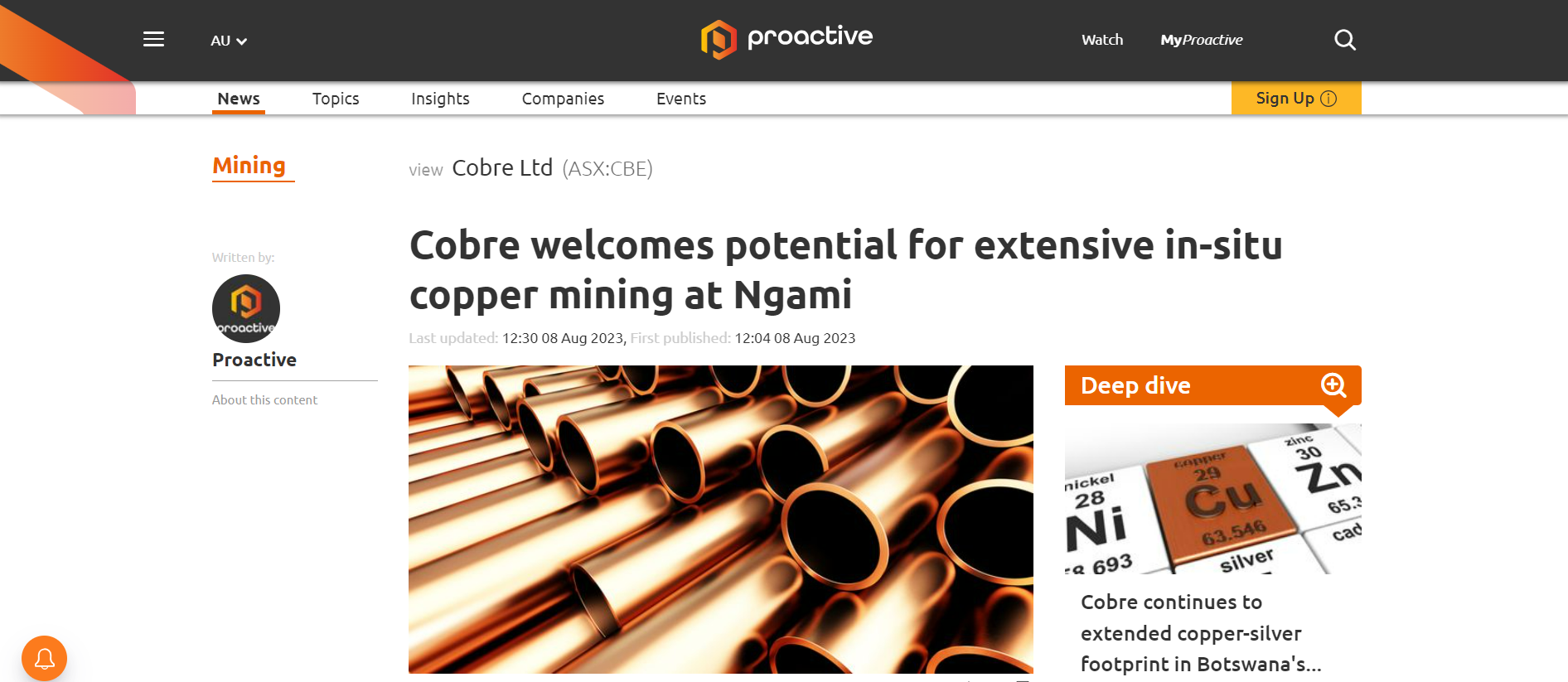 08 Aug

Cobre welcomes potential for extensive in-situ copper mining at Ngami

Cobre Ltd (ASX:CBE) believes it's leveraged to develop an extensive in-situ copper mine at its Ngami Copper Project in Botswana.

The Africa-focused base metals player has conducted initial metallurgical test-work, confirming it can use acid leaching techniques to beneficiate copper mineralisation at Ngami.

Cobre has also completed a detailed hydrogeological review, which demonstrates the project's extensive lateral mineralisation is ripe for in-situ copper recovery (ISCR).

Why is this important? In a nutshell, ISCR techniques pose an economically efficient way to excavate several tens of kilometres of strike with minimal environmental impact and low initial capex and opex metrics.
What now?
Cobre's first round of metallurgical test-work yielded copper recoveries like 55.7% and 45.4% from moderate and high-grade samples.
Following a positive first-pass program, the company has initiated further testing to optimise leaching conditions and boost its copper recoveries.
In turn, additional hydrogeological test-work is underway to prove the ISCR model's viability. This program will include a series of pumping tests to provide an estimate of hydraulic conductivity, as well as illustrate connectivity along the fracture zones associated with mineralisation.
Later this quarter, Cobre intends to release an inferred resource and exploration target modelling results for the Ngami project.
These deliverables will provide further insight into the project's scale and potential avenues for expansion at the Botswana copper camp.
"Environmentally friendly solution"
Commenting on the potential for ISCR, Cobre CEO Adam Wooldridge said: "Our concept study results show that using ISCR technology to develop the laterally extensive copper mineralisation at NCP is highly promising.
"The dominance of chalcocite mineralisation, well-defined fracture zones, groundwater table depth and less permeable seals running parallel to mineralisation all point to the effectiveness of this method.
"If successful, ISCR could revolutionise the way we exploit significant strike lengths of moderate grade mineralisation at NCP, offering a cost-effective and environmentally friendly solution."