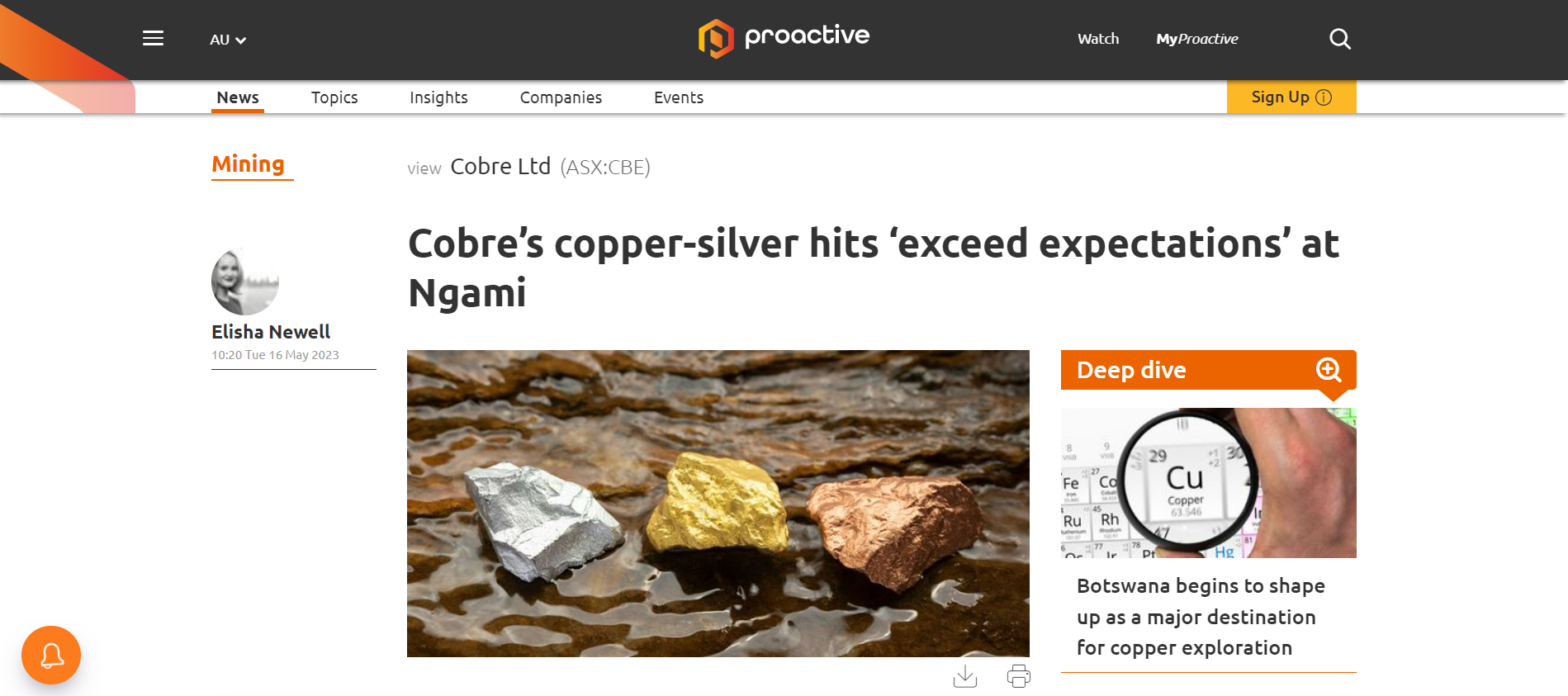 16 May

Cobre's copper-silver hits 'exceed expectations' at Ngami

Cobre Ltd (ASX:CBE) has extended its copper-silver footprint in Botswana thanks to the first round of drilling assays from Ngami Copper Project.

The resources stock's recently completed 5,120-metre diamond drilling program returned substantial copper and silver, hinting at the scale potential of this mineralised system.

Some of the best hits came from Ngami's Interstellar and Cosmos targets, returning:
26 metres at 0.4% copper, including 1.2 metres at 1.1% from 272 metres;
9.6 metres at 0.6% copper and 9 g/t silver, including 0.25 metres at 5.7% copper and 39 g/t silver from 263 metres; and
14.9 metres at 0.5% copper and 13 g/t silver from 142.5 metres.
Interestingly, these results indicate that anomalous copper and silver at Ngami extend over a much larger area than originally thought.
The extensive strike means the polymetallic project could host multiple, structurally-controlled high-grade zones, so Cobre is eager to chart its next steps once all results are in hand.
Exceeding initial expectations
Cobre CEO Adam Wooldridge said: "The first batch of assay results from recent drilling includes data from new targets identified from soil sampling anomalies.
"The presence of anomalous intersections in several drill holes confirms the extensive scale of copper-silver mineralisation, which exceeds our initial expectations.
"The results suggest that we may now have several tens of kilometres of prospective strike, where mineralisation may be locally (structurally) concentrated into economic grades rather than isolated targets.
"The results bear many similarities to the anomalous copper background, size and structural setting of Banana Zone in the north-eastern Kalahari Copper Belt, providing a useful exploration analogue.
"Our primary focus for follow-up work will be to identify the higher-grade portions of the contact."
Method to the madness
Cobre is following a systematic, stage-gated exploration approach as it works to pinpoint copper districts across its extensive portfolio.
The plan is to prioritise targets in prospective districts as it works to identify anomalous copper and silver in a halo of new deposits, delineating high-grade zones for resource drilling.
This strategy has paid off at Ngami, where Cobre is advancing the Interstellar and Cosmos targets to their subsequent evaluation stages.
The company will report more assays as they come to hand and it continues the hunt for Botswana's copper deposits.