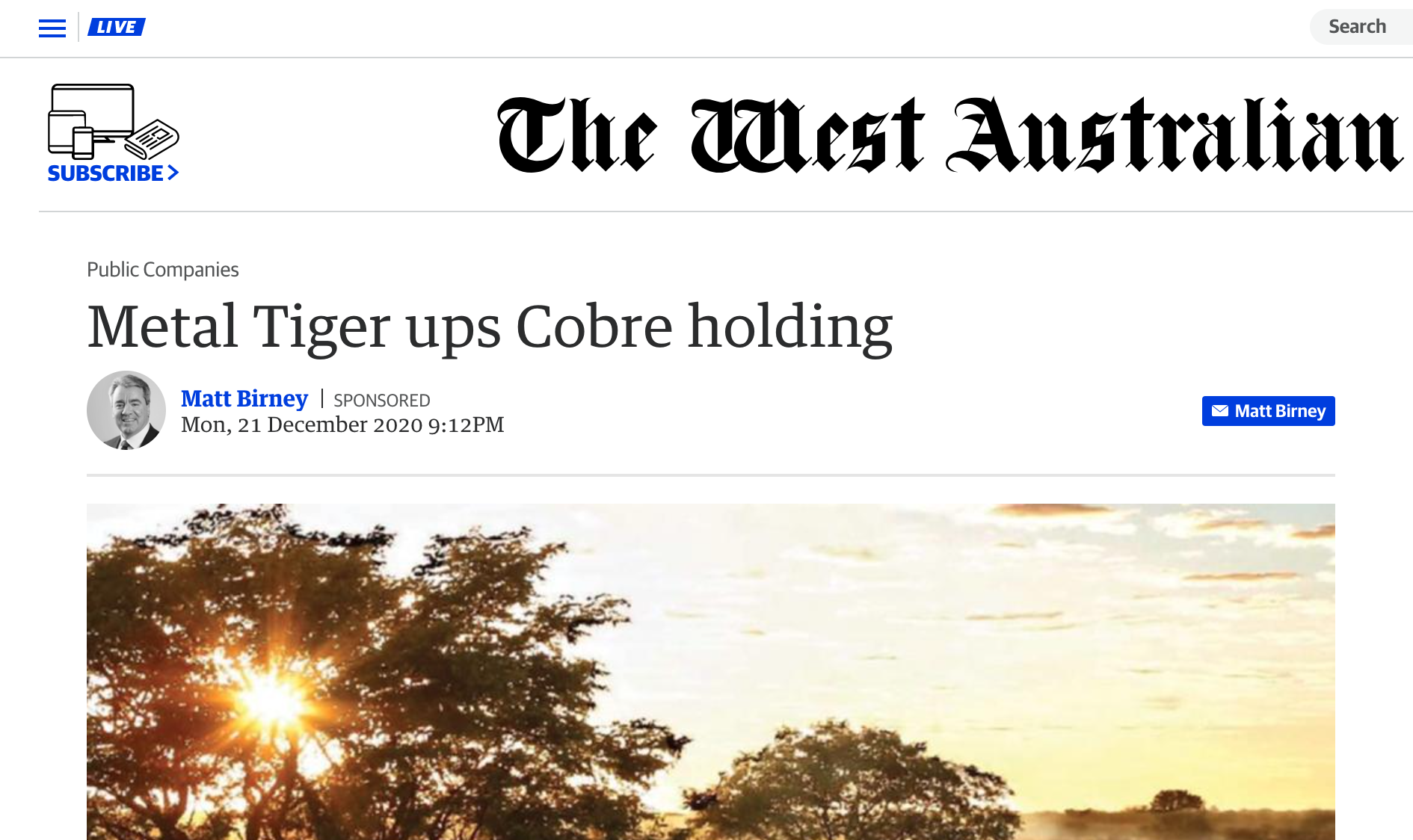 21 Dec

Metal Tiger ups Cobre holding

The savvy investment fund ploughed a further $310k into Cobre in a placement that will see Metal Tiger holding 19.99 per cent of the company as it ramps up exploration across the revered Kalahari Copper Belt in Botswana.

The strategic manoeuvre delivers the AIM-listed Metal Tiger the dominant position on Cobre's register, allowing it to maintain a careful eye on the company's rapidly developing copper exploration program in Botswana.

The deal comes after Cobre recently picked up 51 percent of Botswana copper explorer, Kalahari Metals from Metal Tiger, delivering it the second largest ground holding on the underexplored Kalahari Copper Belt. Metal Tiger maintains a contributing 49 per cent holding in Kalahari Metals.

The AIM-listed Metal Tiger invests primarily in the resource sector and the group looks to purchase or farm into undervalued projects. Metal Tiger also holds 17 per cent of ASX-listed Southern Gold who is aggressively exploring in South Korea.

Passive investments in Metal Tiger's growing portfolio include shareholdings in the likes of ASX-listed Geopacific Resources, Tanga Resources, Los Cerros and a 3.5 per cent holding in Sandfire Resources.

Metal Tiger acquired its holding in Sandfire through its original successful investment in MOD Resources, who made the T3 and A4 discoveries on the Kalahari Copper Belt in Botswana before being taken over by Sandfire late last year.

Metal Tiger's assets and investments were valued at more than £23 million, on the 30th of June 2020, with the company boasting a market capitalisation of some £38 million, or close to A$67 million.

Cobre and Metal Tiger's Kalahari joint venture in western Botswana stretches over more than 350km of prospective strike and includes the Okavango, Ngami, Kitlanya East and Kitlanya West tenement blocks. The ground holding cumulatively takes in a massive 8,100 square kilometres of the under-explored, base-metals-rich terrane.

The partner's Kitlanya East tenure is located immediately to the south of Sandfire's developing T3 discovery. The T3 deposit weighs in at hefty 47m tonnes going 1.13 per cent copper and 16 g/t silver, providing a solid bench-mark for ongoing exploration success.

Cobre and Metal Tiger's exploration efforts in Botswana are currently focused on the Kitlanya East project, with recent drilling and soil sampling extending along more than 30km of strike. The company's exploration program, which has also included remodelling of the existing geophysical datasets, has provided a valuable insight into the three-dimensional geological architecture of the Kitlanya sedimentary sequence and host structure where it has delineated three priority structural targets for drill testing.

Cobre now looks to be in the box seat as the company advances its exploration into 2021, with the support of the well-heeled, asset-rich Metal Tiger who will most likely need to launch a takeover bid for Cobre if it wants to further increase its shareholding in the junior explorer.

And with copper trading at 7-year highs, timing is everything.