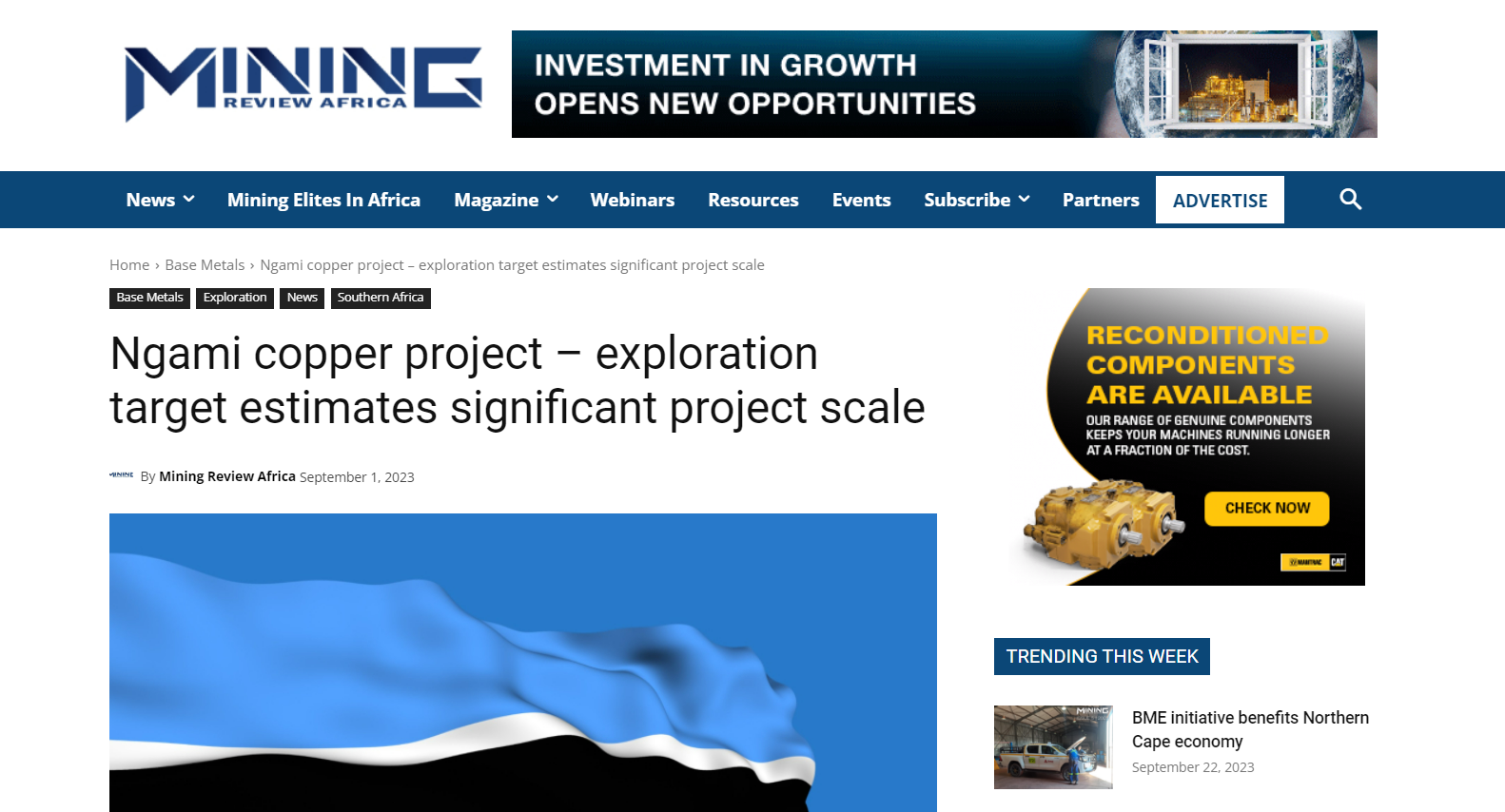 01 Sep

Ngami copper project – exploration target estimates significant project scale

Cobre has announced the results from a recently completed modelling exercise at the Ngami Copper Project in the Kalahari Copper Belt (KCB), Botswana.

Commenting on the exploration target estimate, Adam Wooldridge, Cobre's CEO, said:

"The completed modelling work provides us with a first pass estimate of the significant size and grade of copper mineralisation on the southern anticline structure at NCP.

"Our estimation models derived from drill tested mineralisation, geophysical data, and geological modelling, indicate the project has a scale of between 103 and 166 Mt @ 0.38 to 0.46% Cu with a relatively small drill programme required to bring the first circa 23 Mt into an inferred category resource. In addition, more than 20 km of untested project scale.

"Our metallurgical and high-level hydrogeological work indicates that the project is a strong candidate for ISCR which would provide a cost-effective method for beneficiating the copper from this substantial target with minimal environmental footprint.

"Our next steps along the ISCR journey will involve conducting pump testing to gather detailed hydrogeological information and conducting further metallurgical test work to optimise copper recoveries."

Cobre owns 100% of an extensive land package of highly-prospective copper and silver exploration tenements in the Kalahari Copper Belt (KCB).

Landholding comprises the second largest tenement package in the KCB in proximity to, and along strike from, known deposits in the KCB. The KCB is regarded as one of the world's most prospective areas for yet-to-be-discovered sediment hosted copper deposits by the US Geological Survey and is emerging as a new copper production belt.

KML's landholdings are along strike, and adjacent to, two major development projects: from Khoemacau's Expansion Project and Sandfire's (ASX: SFR) Motheo Production Hub.